Strong points for fractional laser
Thermal damage on the skin can be considerably reduced by using ultra pulse laser beam.
Microsys installed high quality Galvano moror for the fast, precise and safe treatment.
Also the treatment method is very convenient because it can adjust beam density and size with easy.
Unlikely existing other device, Microsys is added multiple function such as, rubbing mode which other maximize the treatment result.
Patients can do daily life very soon after treatment because downtime is very short.
Specifications for fractional laser
Microsys is designed that maximum 2,500 dots can be radiated on 20mm x 20mm area of skin evenly.
Microsys is designed to reduce PIH considerably by making laser beam penetrate into skin deeply because beam size can be radiated minutely with micro units.
Microsys decrease patient's pain but increase effectiveness by using short pulse duration and high peak power.
For operator, square and circle beam shape is added.
Four different kinds of beam patterns (array, grid, random) makes all of treatment easily and perfectly.
Micro Thermal Hole Zone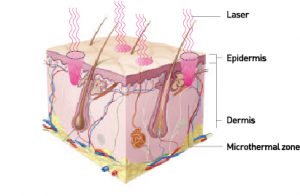 Application
Skin Rejuvenation
Acne Scar
Lunch Peel
Wrinkle, Fine Lines
Skin Resurfacing
Rubbing Mode
Large Pore
Skin Tightening
Stretch Mark
Specification 
Technical Specifications
Model
Microsys
Laser Type
CO₂Laser (USA Origin)
Wavelength
10.600nm
Guide Beam
650nm Less than 5mW
Laser power
1-50W
Aiming Beam
Diode Laser 655nm (5mw) :1-10 Step
Surgical Mode
Handpiece Type
50mm,100mm (Basic)

E.N.T & Dental Handpiece (Optional)

Laser Operation Mode
1.CW 2.Normal Pulse 3.Super Pulse
4.S.P.C 5.Ultra Pulse
6.Smart Protocol(General Surgery/Dental Surgery)
Pulse Mode
– Ultra Pulse : 90us-900us
– Super Pulse : 1000us-3500us
– Normal Pulse : 4ms-20ms
Repeat Time
OFF,2ms/500ms adjustable, 5ms, 10ms, 30ms,
50ms, 70ms, 100ms, 250ms, 500ms
Fractional Mode
Beam Mode
Ultra Pulse
Density Level
1-23 Step(x,y line) ; 9dots-4489 dots
Operation Mode
Fractional Mode
Low Pain Fractional Mode
Beam Patterns
Array, Grid, Random
Beam Size
2×2mm – 20×20mm
Beam Shape
Depth Level
1-5 Step
Handpiece
– Fractional Handpiece(Galvanic Motor)
– Vaginal Rejuvenation Handpiece(Optional)
Repeat Time
OFF, 0.5 , 1.5, 2, 2.5ms
General Features
Electrical Requirements
220~240v, single phase, 50/60hz
Cooling System
Air cooling
Dimensions
400x390x1000mm
Weight
50Kg
Display
10.1 inches true color LCD